Lead Engineer
Rokoko is driving a paradigm shift in how creators work with animation and digital motion.
Rokoko's offering unlocks the talent of millions of emerging creators that need fast, easy, and affordable animation tools.
Our tools are designed for independent creators whilst being adopted by some of the world's largest animation studios, like Netflix, Sony, or Disney.
From the heart of Copenhagen, where it began, to our colleagues back in Athens and all the way across the USA, we all echo Rokoko's calling - to empower the storytellers of tomorrow.
None of this would be possible without the humans behind Rokoko.
Creative, driven, and passionate about what we do, every day we stand by our mission and we're looking for talented teammates that can join us to build creative tools within art, entertainment, film, research, education, or health.
We collaborate with top-tier game, film, AR/VR, and VFX producers as well as thousands of creators that make unique content.
Dare to join us too, we'd love to have you.
🔥What's the role about

Lead a team of various engineering fields with teams primarily in Athens (Greece) and Copenhagen (Denmark).
Lead and support the dedicated engineers who architect and develop software products.
Develop & maintain our internal tools and framework.
Use best practices to make sure our software stays clean, optimised and scalable.
Your time will be split : 25% people management, 25% project management, 50% hands-on coding.
🕵️ Your background

3+ years of provable professional work experience writing, testing and optimizing object oriented code.
Fluent in C# and solid understanding of object-oriented programming (OOP).
1+ years of relevant work experience in leading and coaching individuals and teams within engineering.
Fluent in English both written and orally and strong communication skills.
🤘 You rock..if you have
Experience with Animation & Motion capture tools

Experience with C++
❤️ Rokoko perks and benefits
Work with an international team of 70+ talented individuals and a rare opportunity to work with professional motion capture/or other ESP.
Fantastic office location in the heart of Athens.
Work-life balance - we want you to win both at work and in life.
Health insurance.
Company fun runs - we love sporty outdoor activities from casual runs to marathons.
Regular social gatherings, both psysically and digitally.
A quite unique opportunity to join Rokoko at the most exciting scale-up phase. We offer a steep learning curve and an ambitious work environment.
✨ Why you would love working with Rokoko
2021 was an unprecedented year for us at Rokoko.
We grew across teams and welcomed 50+ talented people among our teams.
We launched a new generation of the industry's favorite mocap suit, the Smartsuit Pro II.
We saw first-hand our mission to make motion capture widely accessible demonstrated in the many works of our talented community, using our tools as a vessel to push the boundaries of digital artistry.
In 2022 we launched Rokoko Video, our Free AI motion capture, and with 2023 just starting, we are so excited for what's to come!
Let's make 2023 even greater, together.
Thirsty for more?
Browse our Instagram stories and posts on Twitter, LinkedIn, Facebook, and TikTok. and join our community of 3D artists, VFX experts, and game devs on Discord.
Psst...and check some of our user stories here
Rokoko is an equal opportunity employer, therefore we do not select candidates based on gender identity or expression, mental disability or physical disability, race, religion, age, national origin or ethnicity, sexual orientation, marital status, veteran status, or parenthood choices.
At Rokoko, we breathe diversity and creativity. Whatever your path or background is, however you express or identify yourself, join us and let's get things in motion.
Department

Engineering

Locations

Athens

Employment type

Full-time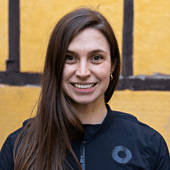 Contact
Alice
People & Culture Manager
About Rokoko
Our vision is to crush the barriers of animation and interactive storytelling. We imagine a world where Rokoko enables anyone and everyone to breathe life to their creative ideas, where imagination is unshackled from technical complexities and the steep learning curves of animation.
Lead Engineer
Rokoko is driving a paradigm shift in how creators work with animation and digital motion.
Loading application form
Already working at Rokoko?
Let's recruit together and find your next colleague.